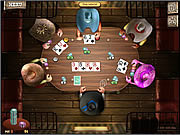 Governor of Poker has come up with its next sequel, Governor of Poker 2. This one is occupied with more advanced AI and the chance to purchase a new hat.
In this game, you show up in a small town, mainly a residential community. And now you are free to travel anywhere you wish. You can also head out from house to house.
Each time you own a new house, your reputation meter goes up. When you own all the houses within the territory, you can shift to the following town. And then again, keep conquering it in the same system.
Therefore, take part in the tournaments and try to win them. Increase the reputation and purchase lots of new houses. Be sure to pay attention to the entry fees for the tournaments before you start playing it.
Sometimes, it may be beneficial to complete a smaller tournament before you head for the larger ones. Obtain more reputation for winning the games.