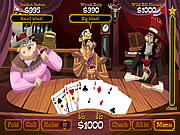 Welcome to the Good Ol' Poker! Come and join the table. Before you get started, you should be ready to go up against the best card-slingers in the West. It's a bit different version of the classic 5 card game with a few twists.
To start playing the game, at first, you need to choose a character to represent yourself in this game. Every character has different and unique abilities (such as cheat capability or aggressiveness of unique play style). Some of them have a few special abilities, such as peeking into others cards.
The aim of this game is to obtain the highest score (measured in cash amount) in every poker round. A round consists of 15 hands. And those include a classic set of betting, dealing and drawing.
Use the special abilities to cheat the game when your confidence bar is fully loaded. The bar gets loaded by 10% once in every hand and by 35% only when you beat your opponents and win a hand. But, you need to be cautious when you use your ability as your rivals might understand that something fishy is going on.